Thai red chicken curry
Put some spice back in your life with this stunning recipe. This aromatic Thai style curry takes a short time to prepare and cook and will fill your home with tempting aromas.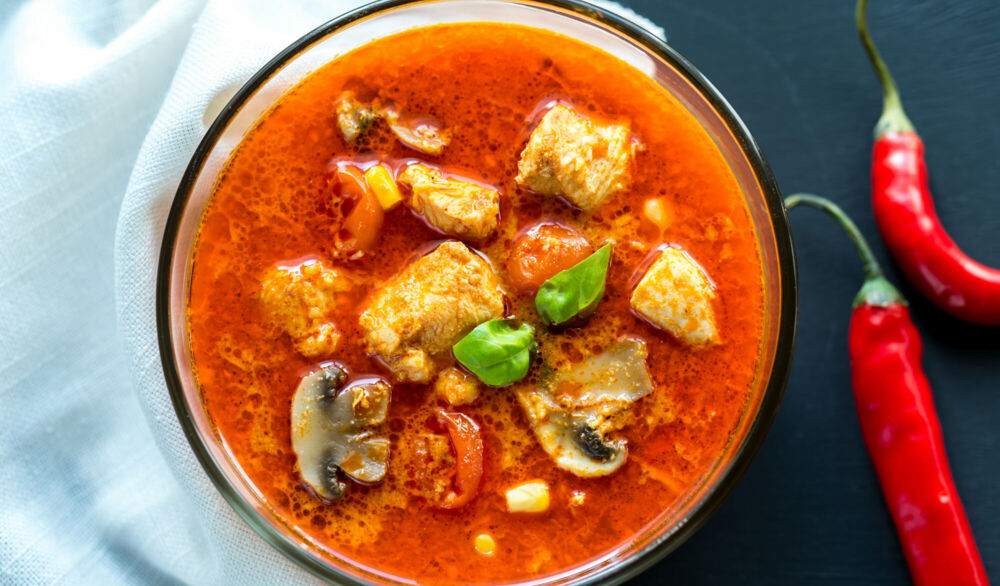 Ingredients
8 chicken thighs, skin on
1 onion, sliced thinly
1 clove garlic, finely chopped
1 tablespoon oil
6 tablespoons Thai red curry paste
4 kaffir lime leaves
400ml coconut milk
1 bunch bok choy, sliced
2 cups jasmine rice
½ cup desiccated coconut
4.5 cups water
lime wedges and fried shallots ( available from Asian stores) to serve
Method
Carefully remove the chicken thigh skin and place on a baking sheet lined with baking paper. Place the chicken skin in the preheated oven and cook until golden and crispy 12 -15 minutes. Cut the chicken thighs into chunky pieces.
Heat the oil in a saucepan or deep frying pan and brown the chicken well.
Add the onion & garlic and cook stirring for a further 3 minutes.
Add the curry paste and cook stirring until fragrant 1-2 minutes.
Stir in the kaffir lime leaves, chilli and coconut milk. Simmer for 15 minutes.
Heat the water over a high heat until boiling, add the rice and the coconut to the pan and cook 10 minutes. Remove from heat and cover with a lid until required. Add the bok choy to the curry and cover and simmer for a further 2 -3 minutes. Serve curry with rice in a deep bowl, garnish with lime wedges, fried shallots and crispy chicken skin.
Tips: This curry is also delicious made with Beef or Lamb. Store any leftover curry in the refrigerator for up to 4 days.
Share this recipe
More recipes like this