Chicken, cheese & chive sausage rolls
Bet you can't eat just one! Australians LOVE sausage rolls, and these chicken cheese chive sausage rolls are so quick and tasty they'll be gone as fast as you can make them. What's more, they're so easy to make at home any time of the year!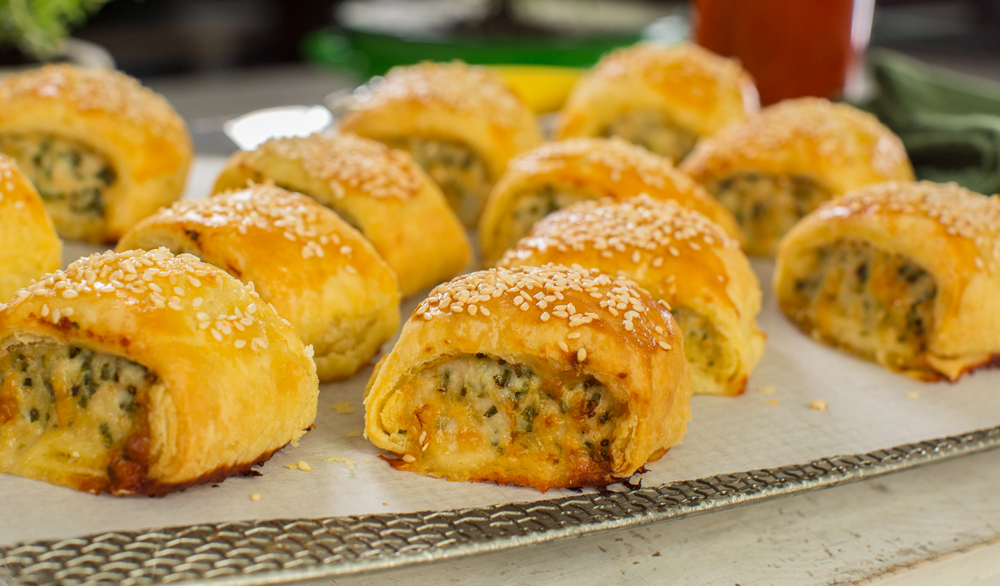 Ingredients
500g Ritchies chicken mince
2/3 cup chives, packed and finely chopped
2/3 cup mature cheddar or tasty cheese, grated
1 teaspoon fine salt
2 teaspoons freshly ground black pepper
500g home made rough puff pastry (see recipe link) or 3 sheets pre made butter puff pastry
1 egg, lightly beaten
to decorate
3 tablespoons sesame seeds
Method
Preheat oven to 180oC. In a large bowl add the Ritchies chicken mince, chopped chives, grated cheese, salt and pepper and mix together thoroughly.
(If your making the pastry from scratch, chill the pastry for half an hour before using it and roll it out to 1/3 cm thick sheets. Then follow the instructions below).
Line a large baking tray with greaseproof paper.
Work with one sheet of pastry at a time. On a large lightly floured board using a very sharp knife, cut the pastry into 15 x 30 cm long rectangles. Spread a line of the chicken cheese and chive mixture about 4cms wide and high down the centre of each piece of pastry.
Dampen one edge of the pastry and roll the pastry over the chicken mixture. Press the edges together to seal them and then cut each long section into 6-7cm lengths and place on the lined baking tray. Then repeat with the rest of the pastry and chicken mixture.
Glaze each roll by brushing with beaten egg. Scatter with a few sesame seeds, then bake in the preheated oven for about 20 minutes until cooked through and golden brown.
Serve warm with tomato or chilli sauce.
Makes about 12. Preparation time 30 minutes (add 40 minutes if you make the pastry from scratch). Cooking time 20 minutes.
Share this recipe
More recipes like this